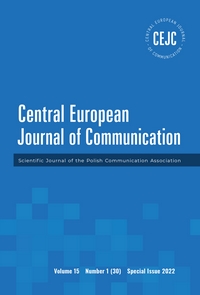 "Central European Journal of Communication" (ISSN 1899-5101) is the scientific Journal of the Polish Communication Association. It engages in critical discussions on communications and media in Central Europe and beyond.
The Journal welcomes submissions of both theoretical and empirical research from a wide range of disciplinary approaches. We also publish book reviews, notes on methodology, conference reports, interviews with scholars and media practitioners (policy-makers and journalists).
The Journal is published twice a year (in Spring and Fall).
More...