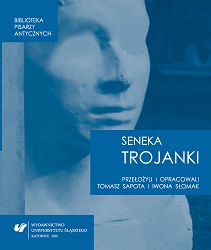 Lucius Annaeus Seneca: "Trojanki. Troades"
Keywords: Seneca; Troades; translation; Roman tragedy
Translated and prepared by Tomasz Sapota, Iwona Słomak; introduction by Tomasz Sapota; footnotes prepared by Iwona SłomakLucius Annaeus Seneca, a Roman philosopher who lived during Nero's reign, left a collection of nine tragedies, the only ancient Latin texts representing this genre which were preserved in their entirety. Troades is a lament of women who remain in the ruins of Troy and wait for the results of a drawing which was to indicate the person whom each of these women would become a part of war booty. The text demonstrates how violence reinterprets man's ideas about himself and how it is that in the world of cadavers, the monotony of suffering, cruelty and rape the order of dissection is brought about: the turn of the wheel of fortune reduces a queen into a slave, a mother into an orphaned widow. The women of Troy face the attempt at establishing the significance of the misfortune which crushed their faith. The power of this piece of drama emanates from its stoical and rhetorical foundations. Cruelty, despair, hopelessness, the loss of "oneself", of the image of who one is are examined here by the instruments of rational argumentation.
More...