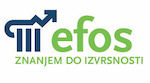 EKONOMSKI VJESNIK / ECONVIEWS : REVIEW OF CONTEMPORARY BUSINESS, ENTREPRENEURSHIP AND ECONOMIC ISSUES
Ekonomski Vjesnik / Econviews Review of Contemporary Entrepreneurship, Business, and Economic Issues is intended for researchers and practitioners, and devoted to the publication of papers that contribute to the theoretical, methodological and empirical insights in the complex field of economics. Articles can be based on quantitative as well as qualitative analyses; they can be a synthesis of previous research and discuss open issues in specific areas of social and economic practice. The journal welcomes papers focused on different levels of analysis (from individual cases to small or large samples) and contexts (SMEs and large companies, industrial sectors, local, regional and national economies, international economics, branches of economy, healthcare and education, labour and demographics, natural resources and other socio-economic frameworks). The papers undergo anonymous review process.
The journal is focused on research in economics, business economics and entrepreneurship, however, as these are closely intertwined with other disciplines information and technical sciences, law, sociology, psychology and other fields, multidisciplinary submissions are also welcome.
More about journal find out here:
http://www.efos.unios.hr/ekonomski-vjesnik/en/
More...