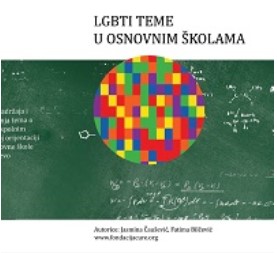 LGBTI teme u osnovnim školama?
Keywords: LGBTQ; Elementary schools; Research topics in schools; Gender and sex identity; School literature; Bosnia and Herzegovina;
Analiza koja je pred Vama predstavlja nastavak rada vezanog za analizu školskih udžbenika na kojem Fondacija CURE radi već duže vrijeme. Naš rad se konkretno nadovezuje na analizu LGBTI sadržaja u udžbenicima za gimnazije i srednje medicinske škole, pod nazivom "O čemu šutimo kada šutimo o pravima LGBTI osoba u udžbenicima", autorice Lamije Begagić, koja je izdata 2016. godine u saradnji Fondacije CURE, Državnog tajništva Sjedinjenih Američkih Država i Sarajevskog otvorenog centra. U ovoj analizi u fokusu je bilo 40 udžbenika koji su se koristili u osnovnim školama u Kantonu Sarajevo u školskoj 2016./2017. godini za predmete: BHS jezik i književnost (Čitanke), Moja okolina, Društvo, Biologija, Vjeronauk i Zdravi životni stilovi. Osim analize postojećeg stanja, doprinos analize ogleda se, konkretno, u prijedlozima za izmjene i dopune određenih sadržaja u korist raznovrsnijeg pristupa temama vezanim za različite rodne i spolne identitete i seksualne orijentacije. Tokom rada na prijedlozima za izmjene postojećih sadržaja, koje smo označile kao problematične, trudile smo se da ni u jednom trenutku ne izađemo iz planom i programom predviđenih tema u okviru nastavnih jedinica za osnovne škole u Federaciji Bosne i Hercegovine.
More...