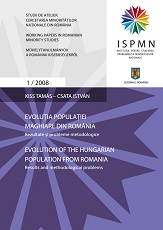 Evoluţia populaţiei maghiare din România. Rezultate şi probleme metodologice.
Keywords: Hungarians in Romania;
The present study aims to present the evolution of the Hungarian population in Romania. Thus, the results of the study and the methodological problems that emerged as a result of the application of standard demographic methods to minority populations (in this case the Hungarian population) are presented in detail.
More...