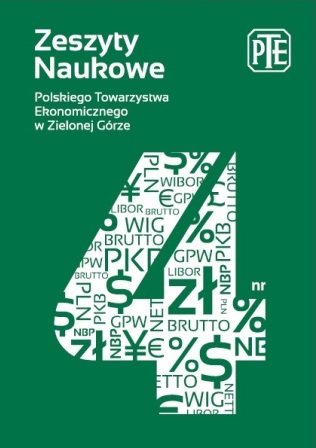 Zeszyty Naukowe Polskiego Towarzystwa Ekonomicznego w Zielonej Górze
Zeszyty Naukowe Polskiego Towarzystwa Ekonomicznego w Zielonej Górze, to czasopismo naukowe o numerze ISSN 2391-7830, wydawane od 2014 roku. Ma charakter półrocznika.
Profil naukowy czasopisma jest interdyscyplinarny, odnosi się do szeroko rozumianych zagadnień z zakresu nauk społecznych.
Na łamach czasopisma publikowane są oryginalne i ciekawe artykuły naukowe, poświęcone ważnym i aktualnym problemom społeczno-ekonomicznym. Są to zarazem rozprawy i studia o dużym znaczeniu teoretycznym i utylitarnym. Zeszyty Naukowe PTE w Zielonej Górze to czasopismo służące dokumentowaniu dorobku naukowego i wymianie poglądów głównie w obszarach związanych z teorią ekonomii i zarządzania, teorią i praktyką integracji gospodarczej, polityką ekonomiczną, regionalną i społeczną, ekonomią rynku pracy, ekonomią środowiska i rozwoju zrównoważonego oraz ekonomiką miast i regionów. Artykuły są osadzone na gruncie takich dyscyplin, jak ekonomia, zarządzanie, psychologia, socjologia czy prawo. Mogą mieć charakter zarówno teoretyczny, jak i empiryczny. Czasopismo stanowi forum dialogu naukowców i praktyków. Oprócz dyskusji naukowej, przewiduje się prezentację opracowań obejmujących doświadczenia z praktyki funkcjonujących przedsiębiorstw oraz instytucji otoczenia biznesu i samorządów terytorialnych, w tym przydatność nowych idei i możliwości ich praktycznego wykorzystania w środowisku biznesowym. Jego celem jest wymiana doświadczeń, myśli, inspiracji, a także prezentacja najnowszego dorobku naukowego w obszarze profilu tematycznego.
More...