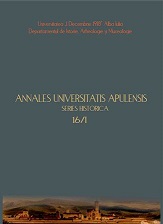 Annales Universitatis Apulensis Series Historica
Previously published by Universitatea "1 Decembrie 1918" Alba Iulia.
The Annales Universitatis Apulensis. Series Historica review is a scientific publication in the field of History, with a wide interdisciplinary relevance. The thematic volumes published since 2014 address current issues in the field of history, archeology, art history and cultural heritage. There are encouraged research with a high methodological value, which illustrates the historical and contemporary realities, with predilection, but not exclusively, from the space of Central-Eastern Europe. The review publishes studies, articles, debates, reviews and reading notes.
More...