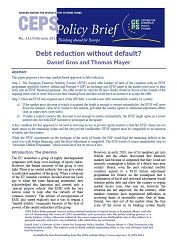 №285. Commission v. Gazprom: The antitrust clash of the decade?
Keywords: Commission v. Gazprom; market vulnerability; Shale gas liquidity; coal dumping in Europe;
It may well be that the Gazprom anti-trust case launched by DG Competition on September 4th will turn out to be the landmark anti-trust case of this decade, as Microsoft was of the last decade. The argument of this paper is that, for a host of political and economic reasons, this case is likely to be hard fought by both sides to a final prohibition decision and then onwards into the EU courts.
More...