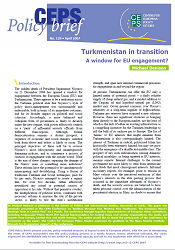 №129. Turkmenistan in transition. A window for EU engagement?
Keywords: Niyazov; Turkmenistan; Transition; EU;
The sudden death of President Saparmurat Niyazov on 21 December 2006 has opened a window for engagement between the European Union (EU) and Turkmenistan. There appears to be a realisation across the Turkmen political elite that Niyazov's style of policy micro-management was unsustainable and undesirable, both in terms of its immediate outcomes, and for its broader impact on political and social cohesion. Accordingly, a more balanced and collegiate form of governance is likely to develop under the new regime, with power effectively centred on a 'junta' of influential security officials from different clans/regions. Although formal democratisation remains a distant prospect, a sequence of economic and social changes, initiated both from above and below is likely to occur. The principal objectives of these will be to reverse Niyazov's most idiosyncratic and unambiguously damaging policies, and to commence a process of cautious re-engagement with the outside world. What is the aim of these changes, repairing the damage of the Niazov years or something more ambitious? These reforms have the potential to be simultaneously emancipating and destabilising. Using a fusion of traditional Turkmen and Soviet techniques, paid for by gas rents, Niyazov managed to create a regime that, for over two decades, rather effectively neutralised any actual or potential sources of opposition to his rule. Without that primitive overlay, the multiplication of political actors, combined with necessary reforms to increase the role of the private sector, is likely to test the state's institutional strength, and open new internal commercial pressures for engagement in and beyond the region.
More...