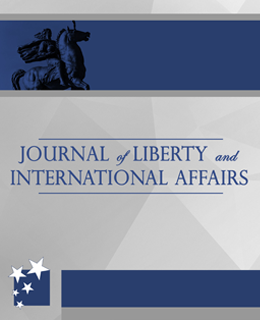 Journal of Liberty and International Affairs
Journal of Liberty and International Affairs is a triannual (3 issues per year), open-access and internationally peer-reviewed journal devoted to the study of liberty and international affairs, published by the Institute for Research and European Studies - Bitola. The journal also encourages the publication of occasional Special Issues. It welcomes submissions from political sciences, international relations, international law, and related fields. The primary intention is to offer academic and public debate taking into account the following topics: Individual liberty; Libertarianism; Liberalism; Objectivism; Capitalism; Anarchism; Democracy; Political Anthropology; International relations and diplomacy; Public and private international law; Geopolitics; Nationalism; Multilateralism; Ideology; Politics and religion; Neo-Ottomanism; Yugosphere; Propaganda; Regional cooperation; European federalism; EU law and politics; European economic governance; EU foreign and security policy; Competitive federalism; Comparative constitutional law; Human rights and liberties; Gender studies; Emerging powers (BRICS; Russia; China; India etc.); Transatlantic relations and other related topics, that contribute to the understanding of liberty and international affairs from different angles. It is important to emphasize, that this journal devotes special attention to Europe / EU as a crucial factor in contemporary international affairs. Also, the journal editorial team encourages the submissions that treat Balkan issues, especially the attitude of the Balkan countries towards the European integration, and their place within the new international context.
Journal of Liberty and International Affairs is identified by an International Standard Serial Number (ISSN) and each article carries a Digital Object Identifier (DOI) which is a persistent identifier or handle used to identify objects uniquely, standardized by the International Organization for Standardization (ISO). The publisher and the journal have registered a deposit policy with SHERPA/RoMEO. All the articles are freely available online upon publication. They are published under the liberal Creative Commons Attribution 3.0 Unported License (CC-BY). Each article is archived in SSOAR with an assigned URN (Unique Resource Name), which is a persistent identifier (PID) that enables unequivocal and permanent access to the publication and its scientific citation. The author holds the copyright and retains publishing rights without restrictions. Articles that have been accepted, will be published on the website of the journal and may be distributed to other online repositories or the author's pages on Academia.edu. In order to provide visibility of the published work, the journal is indexed and abstracted in multiple academic repositories and search engines. The journal editors share announcements, news, and related articles about the topic of the journal on Facebook.
Journal of Liberty and International Affairs is a peer-reviewed journal, all articles being examined by researchers with credentials in the article's field of study before they are published. Articles are subjects to initial editorial screening and anonymous peer-review by two reviewers who will be selected by the editors. This journal operates a closed peer-review process, meaning that reviewers will not know author details and will themselves remain anonymous to the author. Journal of Liberty and International Affairs follows double-blind peer-review policy strictly.
The publisher and journal have a policy of "Zero Tolerance on the Plagiarism". All articles will be checked by PlagScan before being sent to the reviewers. If the case of plagiarism or duplication is detected, the article will be immediately rejected. If plagiarism or duplication is detected after publication of the article, the journal editors have the right to issue a correction or retract the published article. Any attempts for plagiarism will be strictly sanctioned by the journal editors.
Journal of Liberty and International Affairs is a fully open access journal, which means that all articles are freely available, ensuring maximum, worldwide dissemination of content, in exchange for an article publication fee. The journal provides immediate open access to its content on the principle that making research freely available to the public supports a greater global exchange of knowledge. Published material can be re-used without obtaining permission as long as a correct citation to the original publication is given.
More...