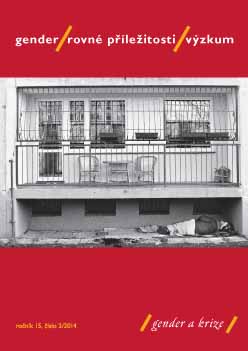 Gender rovné příležitosti výzkum
With the issue Nr. 2/2016 the journal title Gender, rovné příležitosti, výzkum has been changed to the new title Gender a výzkum. The new journal continues with a new ISSN-print: 2570-6578, ISSN-online: 2570-6586.
Periodical Gender, Equal Opportunities, Research forms part of the project of Support of Social Acceptance and Efficient Enforcement of Gender Equality in Public Sphere (supported from grant of the Council of Targeted Research and Development Programme of Academy of Sciences of the Czech Republic). The main goal of this periodical is to introduce the project results to the readers and in particular to show what research and theory in the field of gender sociology and gender equality in public sphere has to offer.
More...