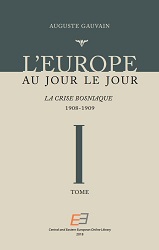 The 14 volumes of Auguste Gauvain represent an 11 Years Political Diary of the very origins of Modern Europe as it evolved in early 20th century from a multitude of disintegrations (OTTOMAN EMPIRE…), competitions between colonialist powers (BERLIN-BAGDAD….), diplomatic pinpricks (AFFAIRE AGADIR….), side-theatres of war (BALKAN WARS 1912/13…) and, finally, the unique and global catastrophe of WorldWar I.
The idea of Modern Europe originated simultaneously from the efforts of thousands of individual politicians, diplomats, intellectuals to find applicable ways to prevent those European « Bloodlands » (Timothy D. Snyder ) during their own age as well as and for the future of Europe.
In 1908, when Austria-Hungary implemented the annexation of Bosnia-Herzegovina, the French journalist and Foreign-Policy expert Auguste Gauvain considered this decision of the Habsburg Empire as the beginning of a process which, more or less unavoidably, would result in a European War. Hence, he began writing a daily column on the "Event of the Day" in European politics for the French journal « Les Debats ». With few and short interruptions during WW I he did so on each day until the end of the Versailles Peace negotiations in 1919. In early 1920s he published the full collection of all these columns in 14 volumes with the title « L'Europe au Jour le Jour ».
CEEOL has decided to re-publish all these 14 volumes and nearly 10.000 pages as a contemporary key document for understanding the very origins of Modern Europe, the historical progress it represents and the historical necessities and forces which triggered its development. Even its supra-national institution-building after WW II cannot be really understood without this historical background of a few decades before.

FOR DETAILS REGARDING THIS VOLUME PLEASE DOWNLOAD PDFs FROM THE «Contents»-TAB HERE ↓↓ BELOW
More...