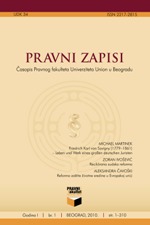 The name of our review reflects this nation's ancient need to carve something of their time into an oak tree that dominates an entire landscape (and they call it "writings"), thus bequeathing these writings to collective memory.
In more stable societies their Law magazines enjoy the stability and reliability of their legal systems where everything works both horizontally and vertically. Owing to our transitional experiences, our legal system is not entirely rounded or complete or consistent. At the same time, it is extremely challenging because it allows our authors to perceive and offer solutions for a number of legal anomalies and problems that survive in a general confusion of laws and regulations. Naturally, this is not the only reason our magazine exists. It also includes debates on philosophy, the history and the future of the law because all these ingredients are essential in attaining a stable legal system and legal order.
The magazine is published twice a year. It consists of articles, reports, news, student contributions, comments on various court rulings and bibliographies and it is always open to introducing new items. In each of our editions we aim for the highest possible standards in quality, actuality, appeal and epistolary elegance The magazine is published by the Faculty but it welcomes all contributions to our efforts in order to establish a relevant magazine which will be a reliable source of information to all those involved in creating, implementing and guarding the Law.
More...