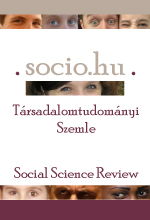 Socio.hu Társadalomtudományi Szemle
Socio.hu is a double-blind peer-reviewed journal published online by the Institute for Sociology, Centre for Social Sciences (Hungarian Academy of Sciences Centre of Excellence, Eötvös Loránd Research Network). It is ranked in category "A" by the Committee on Sociology of the Hungarian Academy of Sciences. Research papers are always peer-reviewed by two expert referees. The research articles are peer-reviewed. Socio.hu does not publish non-refereed research articles and requires authors to declare that their submission has not been published before, and it is not under consideration for publication anywhere else.
Published quarterly in Hungarian; and a special issue in English yearly.
More...