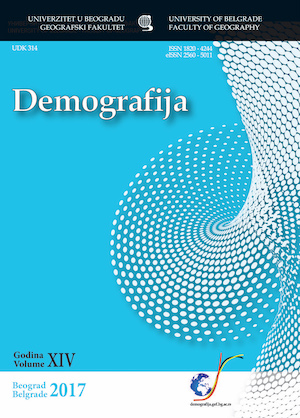 Demografija
Demografija (since 2004 to 2016, Demography-International Journal for Demographic and Other Social Studies) is an annual Open Access journal, since 2005. The journal Demografija primarily publishes scientific articles in wide range relating to demography, and other social sciences and humanities dealing with population research, as well as in interdisciplinary frameworks.
The journal also publishes reviews and book reports, bibliographies, notes on scientific meetings, etc.
Demography may also publish special thematic issues edited by a guest editor, as well as invited papers on a featured topic.
The articles may be submitted in Serbian or English, and the Editorial Board may also decide to publish some of them in other languages.
Demografija is an Open Access Journal. The papers published in Demografija can be downloaded free of charge from demografija.gef.bg.ac.rs and used under the Creative Commons–Attribution–Non Commercial–Non Derivatives 4.0 International license.
The journal Demografija allows authors to deposit both the accepted (peer reviewed, Author's Post-print version, and the final, Publisher's version/PDF) in an institutional repository and noncommercial repositories, or to publish it on Author's personal website and/ or departmental at any time after publication. The publisher, as the copyright holder, and the source must be acknowledged.
Once the manuscript is accepted for publication, author(s) agree to transfer the copyright to the Publisher automatically. If the submitted manuscript is not accepted for publication by the journal, all rights shall be retained by the author(s).
The journal Demografija does not charge APCs (Article Processing Charges). Submission, peer review and publishing procedures are free of charge.
More...