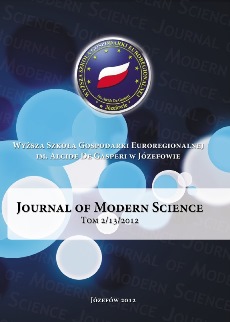 Journal of Modern Science
The scientific journal "Journal of Modern Science" (ISSN 1734-2031) contains studies covering the exchange of knowledge and experience on new phenomena in the field of humanities and social sciences. Such phenomena are those which have recently appeared or which are subject to constant transformations caused by global or local changes, especially in the area of education, organization of social management processes, security and culture. This forces a permanent analysis of the impact of these changes on people, society and the modern world. The journal publishes articles in Polish, English, Russian, Slovak, Ukrainian, Spanish or Italian, as well as reports from conferences and seminars, and reviews of scientific publications.
Among the authors, there are Polish and world specialists in the fields of humanities and social sciences; in the discipline of philosophy, in particular: philosophy of pedagogy, social philosophy, philosophy of security, philosophy of psychology and ethics, philosophy of law, philosophy of religion, philosophy of economics and management, and in the discipline of the science of culture and religion.
On the basis of the decision of the Minister of Education and Science (communication of February 9, 2021), scientific articles published in the journal of Modern Science are awarded with 70 points for the authors' scientific achievements. The journal has been published since 2005. All articles are published with an abstract in English in a printed version as well as they are available free of charge in full on the journal's website www.jomswsge.com. Before publication, all articles are subject to a review process (two "blind reviews"), which is related to the adaptation to the requirements of the Web of Science and Scopus databases.
Journal of Modern Science is an Open Access journal licensed under the CC-BY-SA license.
More...