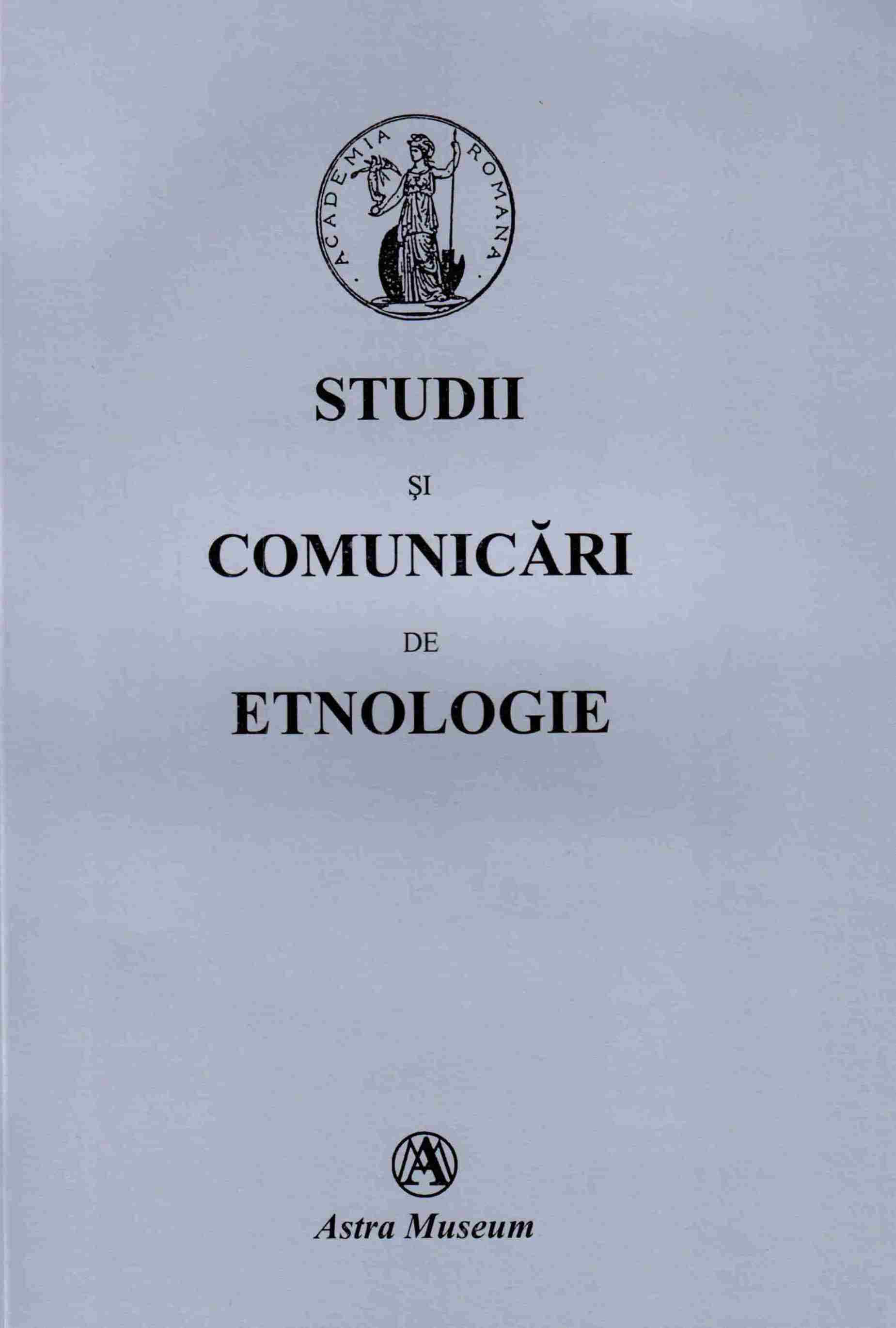 STUDII ŞI COMUNICĂRI DE ETNOLOGIE
The journal includes studies, articles and materials on folklore, ethnography, anthropology and folk art in Romania. The section "The German ethnology in Romania" published materials in German accompanied by summaries in Romanian. Studies and communications of Ethnology recorded the main events marking the Romanian ethnology over the year, including major celebrations and commemorations.
Anuarul Studii şi comunicări de etnologie, aflat sub patronajul Academiei Române, în redacţia profesorului Ilie Moise, cuprinde studii, articole şi materiale privind folclorul, etnografia şi arta populară de pe întreg arealul românesc. Un capitol special este consacrat culturii populare germane din România, fapt care particularizează publicaţia, dându-i un profil special, de reală audienţă în rândul saşilor, şvabilor şi landlerilor din ţară şi de peste hotare.
Prima serie a periodicului a apărut în perioada 1978-1982, cuprinzând patru volume intitulate iniţial Studii şi comunicări, aflate sub egida "Asociației Folcloriștilor și Etnografilor din județul Sibiu" și editate de "Comitetul de Cultură al Judeţului Sibiu".
Sistată în 1983, printr-o decizie nejustificată a "Comitetului Central al Partidului", activitatea de editare a volumului va fi reluată în 1990, prin demersurile făcute de cercetătorii Ilie Moise şi Anca Goţia, cu sprijinul financiar al "Inspectoratului Judeţean pentru Cultură". Astfel, volumul V a apărut ca o continuare firească a vechiului periodic, având aceeaşi structură şi acelaşi redactor responsabil.
Din 1990, "Institutul de Cercetări Socio-Umane Sibiu" preia editarea revistei Studii şi comunicări, alături de Inspectoratul pentru cultură al judeţului Sibiu. Din 1992, devine periodic al Academiei Române, sub titlul Studii şi comunicări de etnologie, adresându-se atât specialiştilor (cercetători, muzeografi, universitari), cât şi tuturor celor preocupaţi de identitatea noastră culturală şi etnică.
Cu fiecare număr al revistei, cercul colaboratorilor s-a extins. Materialele publicate de-a lungul timpului sunt semnate de cunoscuţi universitari şi cercetători în domeniul culturii populare tradiţionale: Gheorghe Pavelescu, Horst Klusch, Corneliu Bucur, Anca Goţia, Ilie Moise, Amalia Pavelescu – Sibiu; Lucia Berdan şi Vasile Adăscăliţei – Iaşi; Maria Bocşe, Dumitru Pop, Nicolae Bot, Ioan Marcoş, Ion Şeuleanu, Virgiliu Florea – Cluj-Napoca; Otilia Hedeşan, Gheorghe Luchescu – Timişoara; Nicolae Constantinescu, Alexandru Dobre, Mihai Coman, Mihai Pop, Emilia Comişel, Ghizela Suliţeanu, Boris Zderciuc, Narcisa Ştiucă, Gheorghiţă Geană, Sabina Ispas – Bucureşti; Ion Taloș – Köln etc.
Secţiunea Din etnologia germanilor din România a avut un mare succes în rândul vorbitorilor de limbă germană, datorită studiilor unor cercetători de marcă din ţară precum Horst Klusch, Herbert Hoffmann, Roswith Capesius, dar şi de peste hotare (Hanni și Michael Markel, Helga Stein, Rosemarie Dörr, Irmgard Sedler).
Prestigiul colaboratorilor împreună cu numărul mare al studiilor publicate în limbi de circulaţie internaţională au sporit faima publicaţiei, consolidându-i poziţia ştiinţifică în contextul revistelor de profil din ţară şi din străinătate.
Componența colegiului de redacție este următoarea: prof. univ. dr. ILIE MOISE – redactor-şef; SILVIA MACREA – redactor-şef adj.; prof. univ. dr. CORNELIU BUCUR, dr. SIGRID HALDENWANG, conf. univ. dr. AMALIA PAVELESCU, dr. IRMGARD SEDLER, prof. univ. dr. ION TALOȘ – membri; dr. ANDREEA BUZAŞ – secretar de redacţie.
More...