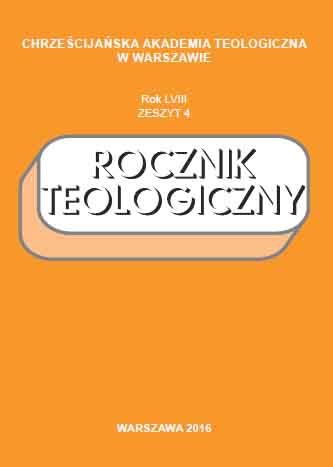 Rocznik Teologiczny
The Theological Yearbook is an academic journal. It was established in 1936 as a scientific periodical of the Faculty of Evangelical Theology of the (Józef Piłsudski) Warsaw University. Four volumes appeared until the outbreak of World War II (1936-39), and after the war the publishing of The Theological Yearbookwas resumed in 1959 by the Christian Theological Academy in Warsaw (ChAT), successor of the Faculty of Evangelical Theology of the Warsaw University. Since then, The Theological Yearbook has been appearing without interruptions.
The Theological Yearbook is a theological an ecumenical, peer-reviewed academic journal, which publishes papers in Polish, English, German and Russian. Theological Yearbook presents articles and dissertations, scientific research results, memories and reports, topical bibliographies, reviews in the field of theology and related disciplines, such as history, pedagogy of religion, philosophy, philology, religious law.
One of the distinguishing features of The Theological Yearbook and the Faculty of Theology at ChAT is their cooperation with scientists from Central and Western Europe, but also from countries to the east of Poland.
The editorial office of The Theological Yearbook would like to engage authors from all scientific circles and bodies, in Poland and abroad. The journal is intended to serve as an open forum for voices from all religious and cultural circles, and an interdisciplinary and ecumenical periodical in the broad sense of the word, a place for sharing ideas in the scientific discourse. The editorial office accepts for publication articles and dissertations that fulfil the requirements for research work in the field of theology and related disciplines, as well as humanities in the broad sense. Every article is provided with a title, a summary and key words in the language of publication and English.
In compliance with the double-blind-review procedure, articles are reviewed by two independent Polish and foreign scientists, not employed by the Faculty of Theology of ChAT.
More...