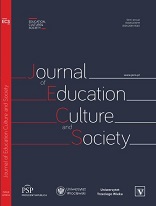 The Journal of Education, Culture, and Society
The Journal of Education, Culture and Society is published to promote the work of emerging young academics in the field of science, althought our periodical accepts texts written not only by students and doctoral candidates who are embarking on an academic career and who wish to publish their first research in English.
The aim of the periodical is to promote the work of young talented researchers in the humanities, cultural studies, social sciences, law, economics and education and the dialogue of sciences. We hope that this international and interdisciplinary project will engage the enthusiasm of academics in scientific work much more than other existing possibilities for publication.
Each issue is divided into a maximum of 6 sections: ethics, transgressions, experience, dynamics, expression, Polish culture and society/ local cultures and societies. It was very difficult to find appropriate names for the interdisciplinary articles so we have decided to use a specific key for describing phenomena and links, trying to avoid the dependence on disciplinary divisions which are frequently not clear enough when related to the various traditions of making science.
More...