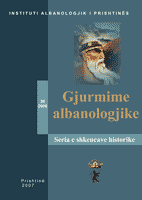 Gjurmime Albanologjike - Seria e shkencave historike
"Gjurmime albanologjike" is regular scientific journal of the Institute of Albanology in Prishtina (IAP). IAP is an independent public research-scientific institute which works in the following fields: Linguistics, Literature, Folklore, History and Ethnology. It conducts activities by researching the Albanological problems on the ground and in archives, studying them and publishing the scientific outcomes and results.
The journal Gjurmime albanologjike, was first published in 1968, when started to publish on annual basis until 1971 when is branched in three series:
1. the philological sciences series;
2. the folklore and ethnology series; and
3. the historical sciences series
Until now have been published 45 issues of each of the series. It is written in Albanian and the resumes are in English and sometime in French. There was a period of time (1984-1987) when the journal Gjurmime albanologjike, with some selected papers, was also published in French under the title Recherches albanologique. From the year 2015, this journal started to publish in English titled Albanological Researches, with selected papers from the three series in Albanian.
The Historical serie Editor in Chief: prof. dr. Lulëzim Lajçi (Prishtina). Editorial Board: prof. dr. Xheladin Shala (Prishtina), prof. dr. Muharrem Dezhgiu (Tirana), prof. dr. Naser Ferri (Prishtina), prof. dr. Qerim Dalipi (Tetova). Secretary of the Editorial Board: Dr. Nuridin Ahmeti.
The journal, three series, are financially supported by the Ministry of Education, Science and Technology of Kosova.
More...