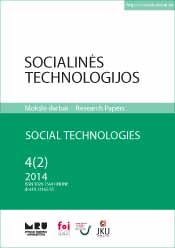 Socialinės Technologijos
The international journal Social Technologies (ST) is aimed to contribute to the global scholarly inquiry and knowledge co-creation in social technologies and other fields of social sciences from multidisciplinary, multisectorial and multicultural perspectives. To fulfill its mission ST seeks:
* to reveal possibilities for developing application of social technologies in different social spheres, content, extent, tendencies; to prepare decisions of strategic importance; and to foresee tasks and recommendations as to how social technologies can transform various spheres of social life;.
* to develop interdisciplinary researches in mathematics, informatics, electronics, new technologies, management, psychology, public administration, economics and other fields.
* to encourage researches seeking for new theoretical and practical solutions to designing social technologies and adapting them to sustainable development of society.
* Promotion of scholarly knowledge.

Main topics of the journal:
* Social Technologies for Internet Enabled Future Society
* Technologies for Developing Breakthrough Innovations
* Creative Technologies
* Educational Technologies for New Learning Environments
* Regulatory Framework for Social Technologies
More...