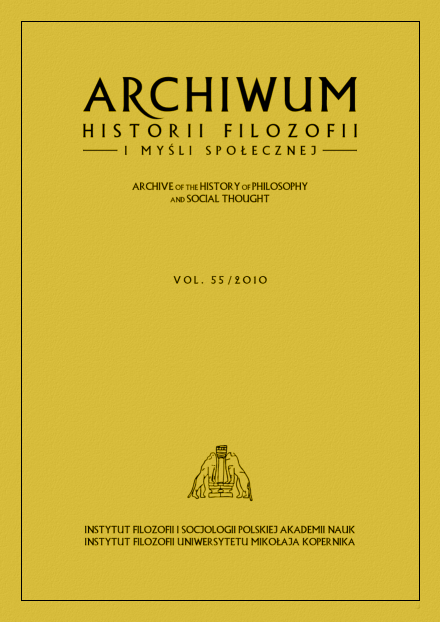 Archives of History of Philosophy and Social Thought have been published annually and continuously since 1957 under the auspices of the Institute of Philosophy and Sociology of the Polish Academy of Sciences. The journal specializes in the field of the history of philosophy, history of ideas (periodical originally stems from the milieu of the Warsaw School of the History of Ideas) and history of social thought. The journal was founded by Leszek Kołakowski, Jan Garewicz and Bronisław Baczko and is the longest incessantly appearing Polish journal devoted to philosophical issues.
Since its inception over 700 scientific articles have been published in AHPST, among them many was written by some prominent intellectuals and renowned philosophers such as: Bronisław Baczko, Zygmunt Bauman, Stanisław Borzym, Izydora Dąmbska, Tadeusz Gadacz, Jan Garewicz, Helmut Holzhey, Leszek Kołakowski, Tadeusz Kroński, Zbigniew Kuderowicz, Ludwig Landgrebe, Stefan Morawski, Zbigniew Ogonowski, Jan Patocka, Otto Pöggeler, Krzysztof Pomian, Gottfried Schramm, Marek Siemek, Barbara Skarga, Jerzy Szacki, Lech Szczucki, Karol Tarnowski, Władysław Tatarkiewicz, Józef Tischner, Karol Toeplitz, Andrzej Walicki. Many first-printings and reissues of some major works of the Polish classics of philosophy and social thought were also published, among them writings of Cieszkowski, Czartoryski, Elzenberg, Kamieński, Kołłątaj, Massonius, Potocki, Struve, Szaniawski, Trentowski, Twardowski, Witkiewicz. Translations of the world–famous classics of philosophy, among them Cassirer, Diderot, Husserl, Leibniz, Marx, Ockham, and a great number of quality papers and pioneer historical studies with emphasis laid particularly on the history of the Polish philosophy and social thought were published as well.
AHPST is one of the most prestigious and distinguished philosophical periodicals in Poland. It is an excellent, large and homogenous source of the knowledge regarding the topics of the history of ideas, ideology and social thought against their philosophical background.
On the polish ministerial list of the periodicals it receiving 10 ranking points. It is also ranked in ERIH plus, CEJSH, BazHum, and Idex Copernicus.
More...