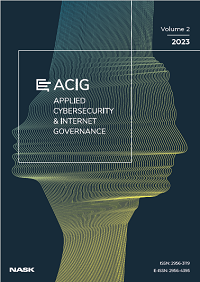 Applied Cybersecurity & Internet Governance
Applied Cybersecurity & Internet Governance is a peer-reviewed, open access journal that provides a platform for debate on crucial and strategic cyber challenges facing both national institutions and multinational corporations. The Editorial Board does not charge the authors for the submission and publication of papers.
The journal aims to create an open space to publish cybersecurity research from various regional, sectoral, and thematic perspectives. Such multifaceted knowledge lends a voice to the ongoing debate on the importance and role of cybersecurity in social, political, and technological settings.
ACIG's mission is not only to highlight the fundamental role that cyber technology plays today, but also to emphasize the interdisciplinary nature of research that provides a fresh take on the nature of modern cybersecurity challenges. It is an opportunity to present scientific achievements, as well as studies of academic communities in Central Europe, but also to strengthen the harmonization of global cooperation. Thus, the papers published in the journal contribute to increasing knowledge and gaining a better understanding of the ongoing processes of digital technologies today.
The editors welcome original research papers that extend the existing knowledge in the field of cybersecurity, both theoretically and empirically.
Scope
Network and Critical Infrastructure Security;
Cybersecurity Data Analysis;
Privacy Enhancing Technologies for Anonymity;
IoT Security;
AI Security;
Digital Infrastructure;
Security and Crime Science;
Security Economics;
Human Factors and Psychology;
Cybersecurity Education;
Legal Aspects of Information Security;
Perspectives on Cybersecurity Policy;
Strategy and International Relations;
Cybersecurity Policy.
More...