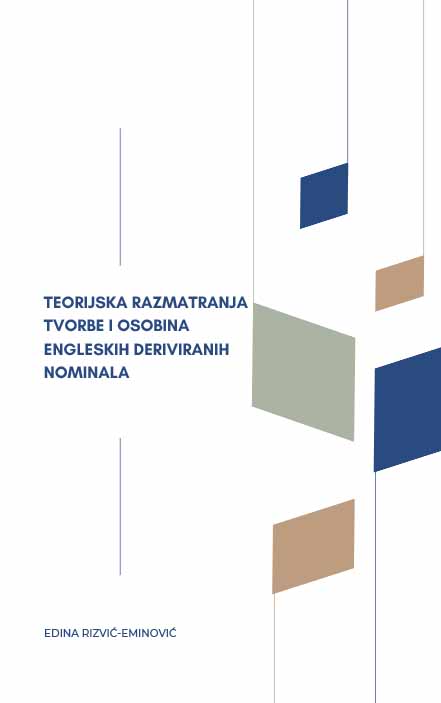 Teorijska razmatranja tvorbe i osobina engleskih deriviranih nominala / Edina Rizvić-Eminović
Keywords: derived nominal; derivation; nominalization; result; process nominals:
By applying the descriptive analytical method, this book presents the properties of English derived nominals at the phonological, morphological, phrase and functional level. Within the scope of this book, derived nominals are nouns derived from verbs, characterized by the following suffixes: -al (arrival), -ance (-ence) (admittance), -tion (¬-ation, -ition, -ution, -ion, -tion) (destruction), -ment (development), and –ure (closure), which may express event and have aspectual properties and argument structure inherited from the corresponding verb (Rizvić-Eminović, 2014, p. 440). The overview of morphological properties of derived nominals includes the analysis of the limitations associated with their suffixation and incorporates a brief diachronic analysis. Additionally, the suffixation in the case of derived nominals reveals some phonological restrictions related to the nominals and some of the above-mentioned suffixes. At the phrase level, the book presents the properties which derived nominals share with other nouns, but verbs as well, while the functional analysis suggests that nominals may perform the same functions in the sentence as other English nouns. The analysis of the properties of derived nominals presented in the different chapters of the book leads to the conclusion that the suffix itself does not affect the features or the interpretation a derived nominal has. It may also be concluded that the interpretation of a derived nominal as either a process or a result nominal requires that not only the presence or absence of the of phrase should be taken into account, but also its aspectual properties expressed through specific aspectual phrases or adverbials occurring with the derived nominal.
More...