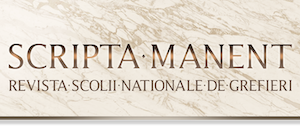 SCRIPTA MANENT
The mission of our specialized journal is complex, through which it wants to make a platform available to professionals in the Romanian judiciary system, a platform through which they can express their ideas, opinions and practice. At the same time, the journal aims to help to the unification of judicial and administrative practice of our judicial system.
SCRIPTA MANENT is addressed to professionals of the judicial system first, but it can also be useful to other legal professionals as well as law students.
SCRIPTA MANENT is peer-edited, having an editorial board composed of specialists in several fields of law (experienced trainers of the National School of Clerks), which reviews each material.
More...