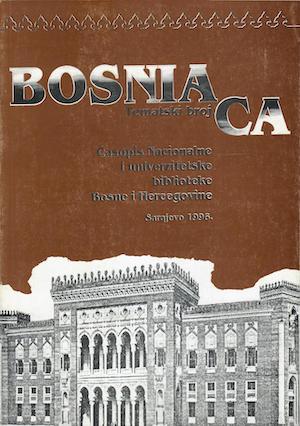 BOSNIACA - časopis Nacionalne i univerzitetske biblioteke Bosne i Hercegovine
Bosniaca is a journal of the National and University Library of Bosnia and Herzegovina that is published yearly and includes original professional and scientific works, systematized materials significant for the renovation of NULBIH collections and library science in general. Thematic blocks of Bosniaca are: Library-Information System, Documentary Heritage, Information and Services in the New Technological Environment and Reviews and Contributions.
The journal is indexed in: Web of Science - Emerging Sources Citation Index, EBSCO databases Central and Eastern European Academic Source and The Belt and Road Initiative Reference Source, ERIH PLUS, ROAD, DOAJ, ICI Journals Master List, KoBSON, Ulrich's Periodicals Directory, Hrčak, Index Copernicus International, Slavic Humanities Index, Miar, Advanced sciences index
The journal is registered in the Official Journal of the Ministry of Educational, Science, Culture, and Sport of Bosnia and Herzegovina, under the number 467.
More...