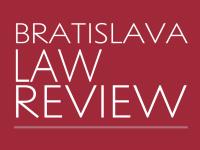 Bratislava Law Review
Bratislava Law Review is an international legal journal published by the Faculty of Law of the Comenius University in Bratislava, Slovakia. It seeks to support legal discourse and research and promote the critical legal thinking in the global extent. The journal offers a platform for fruitful scholarly discussions via various channels – be it lengthy scholarly papers, discussion papers, book reviews, annotations or conference reports. Bratislava Law Review focuses on publishing papers not only from the area of legal theory and legal philosophy, but also other topics with international aspects (international law, EU law, regulation of the global business). Comparative papers and papers devoted to interesting trends and issues in national law that reflect various global challenges and could inspire legal knowledge and its application in other countries are also welcomed.
The Bratislava Law Review has adopted multidisciplinary and interdisciplinary, but also cross-disciplinary coverage. This is also the reason why members of the Bratislava Law Review Editorial Board are experts both in legal sciences and legal practice as well as in related disciplines – to ensure cross-cutting knowledge throughout all legal sciences, branches and fields of law. The Editorial Board consisting of foreign scholars-experts in the above fields, as well as a double-blind peer review provide a guarantee of high standard of the contributions published. In this way, the Bratislava Law Review hopes to provide space for presenting a diversity of opinions and approaches to up-to-date legal issues and problems, aiming in this way to contribute to overall rise in standards of legal scholarship in the CEE region.
More...