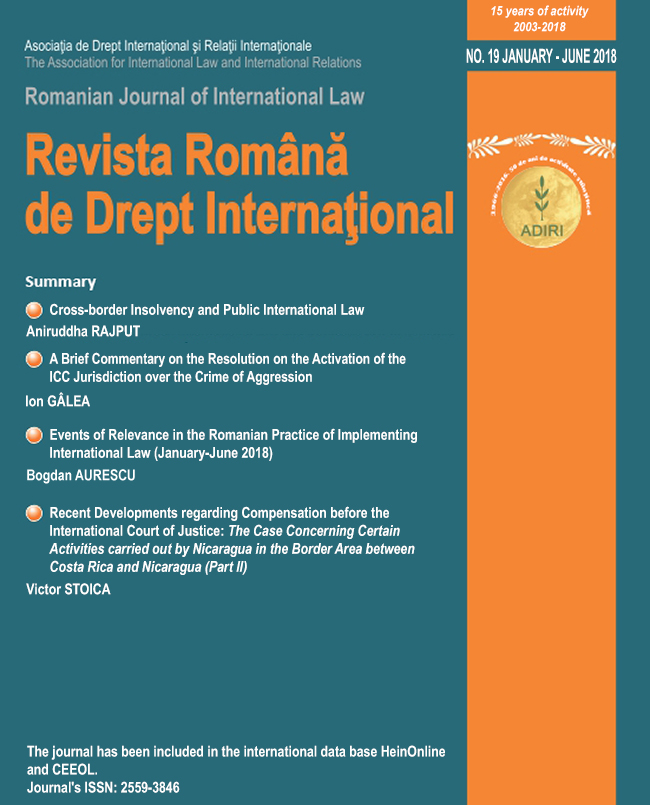 Revista română de drept internațional
The Romanian Journal of International Law (RJIL or RRDI – the acronym in Romanian) is a biannual publication of the Romanian Branch of the International Law Association (ILA), which is also the Section of International Law of the Association of International Law and International Relations (ADIRI) of Romania.
RRDI is among the few legal publications in Romania focusing exclusively on this field of law – international law. It includes articles/essays, studies, analyses and commentaries on a variety of topics of international law. These specific topics are developed by taking into consideration the dynamics of international relations in direct connection with the development of international law. So, large spaces are devoted in the Journal to comments on the jurisprudence of international courts and tribunals, as well as to recent events concerning international law, including those of direct interest for Romania.
RRDI aims at promoting its own vision and at bringing a relevant contribution to the conceptual effort of the Romanian School of International Law – within which a new generation of specialists is emerging, both at university and at professional level – and to the reflection process related to the progressive development of contemporary international law. This endeavor is based on the assumption that the virtues of this branch of law can be effective tools for successfully solving the most complex international issues and also for the accomplishment of Romania's national foreign policy objectives.
Therefore, the journal aims at presenting in each issue an overview of the evolution of international law, which is reflected in its structure:
Articles/Essays
Commentaries regarding the Activities of the International Bodies in the Field of International Law
Events of Relevance in the Romanian Practice of Implementing
International Law
Studies and Comments on Case Law and Legislation
Book Reviews
Ph.D. and Master Candidate's Contribution
Restitutio (section which brings back in the public eye historic contributions by exceptional Romanian specialists in the field)
RRDI promotes scientific contributions of the highest quality and is open to publish such contributions by Romanian and foreign professors, students, practitioners and policy makers in the field of international law. In order to facilitate the access of foreign professionals to this publication, the Journal is published in English or French.
More...