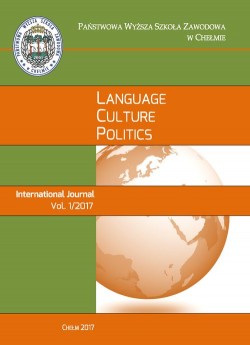 Language, Culture, Politics. International Journal
Language – Culture – Politics: International Journal is a scientific periodical issued by the Editorial Board of The Institute of Modern Philology composed of three departments: English and American Studies, Slavic Studies, and International Relations. Due to the range of disciplines represented by the members of the Editorial Board, the periodical is open to publications covering such spheres as language and literature, education, culture, social studies, religious studies, philosophy, political science and international relations, and therefore, the area of humanities in its broadest scope and content of the term.
The periodical is composed of three main parts, signaled by its title: LANGUAGE – CULTURE – POLITICS. Besides, one additional part – CRITICAL REVIEWS can always be added whenever thematically related materials are sent.
The journal is a publication registered in the National Library of Poland (ISSN: 2450-3576). The sent by authors articles are qualified to publication after they are positively reviewed. The names of independent reviewers are given in the opening section of the journal.
More...