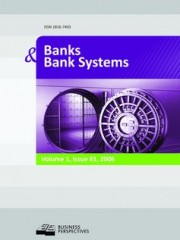 The international research journal "Banks and Bank Systems" is double blind peer-reviewed. It is published quarterly in Sumy, Ukraine and since January, 2017 supports full Open Access. The target audience of the journal includes researchers, scholars, lecturers, students, and practitioners.
Aims and Scope
The journal focuses on the results of scientific researches on monetary policy issues in different countries and regions all over the world. It also analyzes the activities of international financial organizations, central banks, and bank institutions.
Key topics:
Monetary Policy in Different Countries and Regions;
Monetary and Payment Systems;
International Financial Organizations and Institutions;
Monetary Policy of Central Banks;
Organizational Structure, Functions and Activities of Central Banks;
State Policy and Regulation of Banking;
Bank Competitiveness;
Banks at the Financial Markets;
Bank Associations and Conglomerates;
International Payment Systems;
Investment Banking;
Financial Risks and Risk Management in Banks;
Capital and Ownership Structure, Bankruptcy and Liquidation, Mergers and Acquisitions of Banks;
Corporate Governance and Goodwill;
Personnel Management in Banks;
Econometric, Statistical Methods; Econometric Modeling of Bank Activities;
Bank Ratings.
Subject Area – Economics, Econometrics and Finance. Subject Category – Economics and Econometrics; Finance.
Subject Area – Business, Management and Accounting. Subject Category – Management of Technology and Innovation; Marketing; Organizational Behavior and Human Resource Management.
Subject Area – Social Sciences. Subject Category – Law; Public Administration.
More...