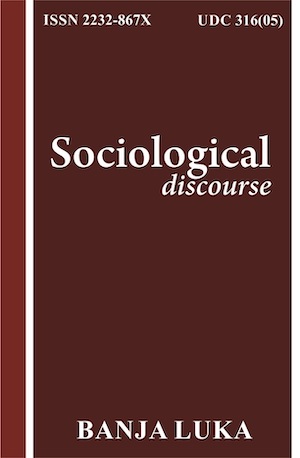 Sociološki diskurs
Sociological discourse is a scientific journal in the field of sociology, political science, social work, anthropology, communication, organizational culture and organizational behavior. The journal is trying to follow the latest trends, analysis and research in these areas. The journal is published twice a year.
Journal Sociological discourse is published in a paper and electronic edition in circulation of 400 copies per issue. As an electronic publication, Sociological discourse has full access to the Internet. According to the decision of the Ministry of Science and Technology of the Republic of Srpska, the journal is listed in the first group of national journals, because it is published in English and Serbian language and has several foreign members within the Council of Editorial.
Editor-in-chief of the journal is Ph.D. professor Ivan Šijaković, while assistant editors are Ph.D. Jagoda Petrović, Ph.D. professor Dragana Vilić and Ph.D. professor Lazo Ristic. All articles published in the journal go through two anonymous reviews by authors who are experts in the given field.
More...