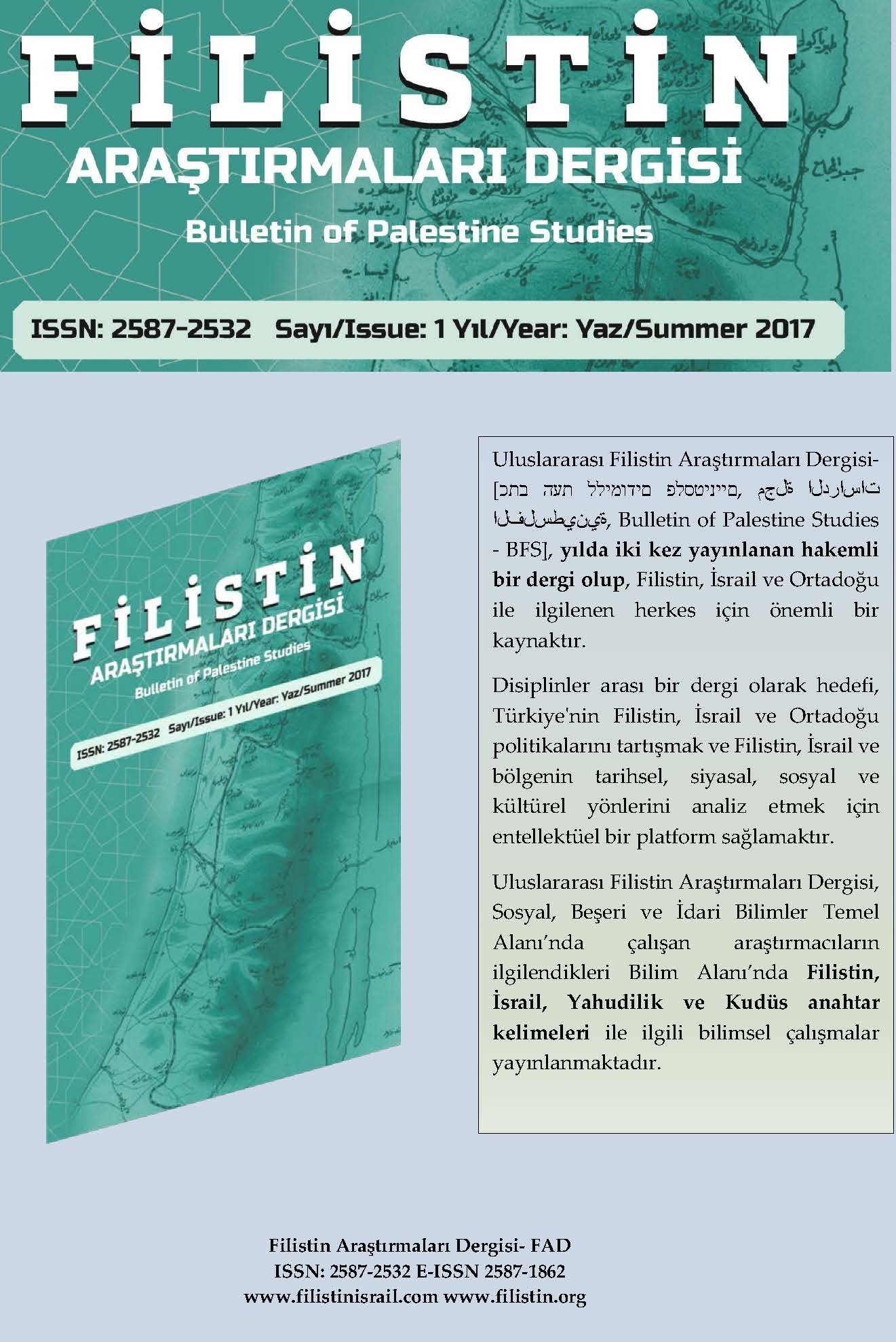 FİLİSTİN ARAŞTIRMALARI DERGİSİ
Bulletin of Palestine Studies - BPS [כתב העת ללימודים פלסטיניים, مجلة الدراسات الفلسطينية, Filistin Araştırmaları Dergisi- FİAD], a biannual, double-blinded peer-reviewed journal, aims to become an indispensable resource for anyone interested in Palestine, Israel and the Middle East. As an interdisciplinary journal, it is to provide an intellectual platform for discussing Turkey's policies toward Palestine, Israel and Middle East and for analyzing the historical, political, social, and cultural aspects of the region. In accordance with these purposes, the Bulletin of Palestine Studies pays close attention to the relationships of Palestine and Israel with Turkey, the Middle East and the world, and encourages scholarly articles with theoretical or comparative approaches provided that the focus remains on modern Palestine and Israel.
The Bulletin of Palestine Studies aims to publish the articles of not only accomplished scholars, but also of promising young researchers in order to promote their research activities. Many dissertations that involve original research go unpublished. There are many benefits of publishing journal articles produced from these works, including original contributions to the chosen field, career enhancement, and personal satisfaction. Generally, turning several chapters from a dissertation into scholarly articles do not constitute a problem when later producing a monograph based on it.
As an editorial board, we have tried to determine the scope and contents of the journal as optimally as possible, given the conditions. It welcomes papers from scholars working in the fields of Social, Human and Administrative Sciences, related with Palestine, Israel, Judaism and Jerusalem.
More...