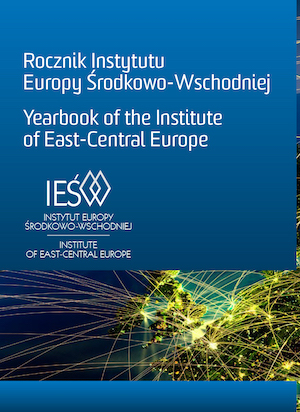 Rocznik Instytutu Europy Środkowo-Wschodniej
The origins of the "Yearbook of the Institute of East-Central Europe" were inexplicably tied to the ideas behind such prominent figures of Polish and international humanities as Oskar Halecki, Jerzy Giedroyc, Konrád György or Jenő Szűcs. The notion of unity of history and fate of the peoples inhabiting the lands between the Baltic, Adriatic and the Black Sea has become a real intellectual challenge around which a group of historians, scholars and political scientists has assembled, with a desire to explore the region's rich past and present-day heritage. The original issues of the yearbook were dedicated to a wide spectrum of historical, cultural and political concepts of East-Central Europe.
Along with a growing awareness of the problem's importance, the periodical's formula has changed. The publication has become a quarterly, once a year supplied with thematic brochures in Polish or English. The range of issues it dealt with has also expanded, now encompassing, next to the founding concepts, new frontiers, both territorial and philosophical.
Today, the "Yearbook of the Institute of East-Central Europe" is a scientific periodical issued every three months, reviewed and scored. It does not deal only with generally understood aspects of East-Central Europe, but it also challenges other, both past and present, issues pertaining to Eurasia. The authors represent the best centres of learning and analytics in Poland, Europe and America, the quality of articles being safeguarded by a select editorial team. Each issue of the yearbook is conceived by the Editorial Committee, while its high scientific value and quality are guaranteed by the international Scientific Board, made up of such distinguished scholars as Natalia Yakovenko, Adolf Juzwenko, Jūratė Kiaupienė, Rūstis Kamuntavičius, Andreas Lawaty, Alexei Miller, Antony Polonsky, Adam Daniel Rotfeld, Henryk Samsonowicz, Aleksander Smolar, Oleksiy Tolochko, Piotr S. Wandycz and Jerzy Wyrozumski.
More...