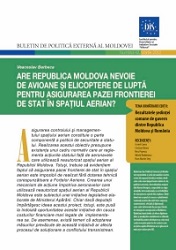 Does the Republic of Moldova need Military Planes and Helicopters to ensure State Border Guard in the Air?
Keywords: border guard; Moldova-Transnistria;
Ensuring airspace control and management is a component part of the state security policy. Achieving this goal implies a legal framework that would regulate state actions against aircraft using in an unauthorized way the airspace of the Republic of Moldova. However, we must emphasize that the protection of the state border in the air is impossible without appropriate technical equipment of the Air Force. Creating a mechanism of action against unauthorized use of the Republic of Moldova airspace by aircraft is subject to a legislative initiative elaborated by the Ministry of Defense. Even if the members of parliament share the idea of this project, however, there are doubts whether this initiative is appropriate because of higher financial costs related to its implementation. There are, also, fears that the adoption of measures under this initiative would affect the settlement of the Transnistrian conflict.
More...